9th Annual
Pet Food Drive
To Benefit Seniors and their Pets in the Sevier County Meals on Wheels Program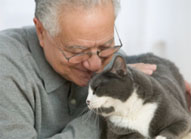 Eight years ago a need was brought to our attention through the Sevier County Senior Center. The Meals on Wheels Program through the center provides daily warm meals for Senior Citizens delivered to their home. We found out many of these seniors have pets to keep them company. We were also told some seniors who were unable to afford to buy dog or cat food would share some or all of their meals with them. As a result, some of these seniors went hungry or had to give away their beloved four-legged companions. We immediately decided to take up a collection of pet food for the center. Each year there is a significant increase in pounds of pet food collected and so far the pantry at the senior center has enough food to last for the entire year.
Dog, Cat, Puppy, and Kitten food of any brand is accepted. Smaller size bags are preferable because it is easier for the staff to transport and the seniors to manage. They will also accept treat and toys.
Donations can be dropped off at the clinic during our regular business hours. The pet food drive typically gets picked up the week before Thanksgiving.
We want to express our sincere appreciation to everyone who has donated over the years to this wonderful cause. To some of these seniors, their pets are the only companions they have. We want to do all we can to make sure they never have to worry about having pet food for their four-legged friends.
Thank you for your support!!!
---
We continually update our webpage, so stop by often to see what's new.